Kennywood Park
West Mifflin, PA
This morning, Kennywood Park premiered their brand new 4-D Theater attraction. The feature film at the theater is "ICE AGE 4-D: No Time for Nuts". "Coming Soon" signs posted on the front of the building also reveal seasonal films for Phantom Fright Nights and Holiday Lights. Those films will be "Friday the 13th 4-D" and "The Polar Express 4-D Experience" respectively.
The theater will hold up to 88 guests at a time, and the "No Time for Nuts" film has a runtime of nine minutes. The queue line for the theater is lined with benches, allowing guests to stay comfortable while waiting.
Upon entering the theater, guests gather in a pre-show room where they will view a short film of the saber-toothed squirrel Scrat's desperate attempt to get his hands on an elusive acorn. For guests who may have not seen the Ice Age films in the past, this funny short introduces them to the character.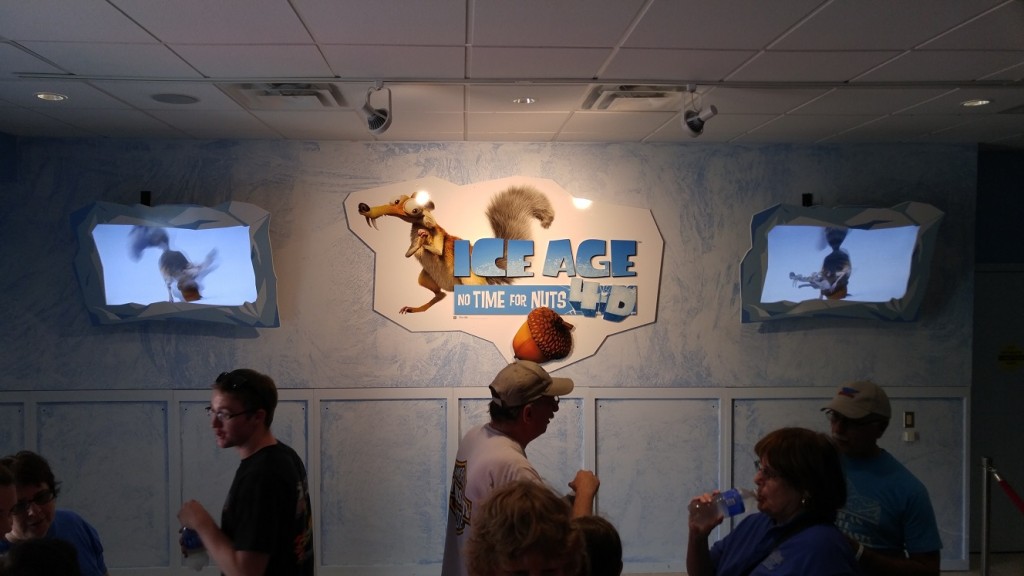 After viewing the short introduction film, guests will proceed through the main theater doors. The theater has six rows of seating, and guests are asked to proceed to the furthest seat in their row so that no seats remain empty.  With stadium-style seating, every seat in the theater provides a great view of the screen. After viewing the film, guests will exit through a gift shop with various Kennywood and Ice Age items.
As far as the film itself goes, we don't want to reveal too much and spoil the fun but there are definitely some surprise elements which make it a truly immersive experience. Make sure to pay the park a visit soon and experience the theater and the extremely entertaining and funny film for yourself! This is a great addition for Kennywood, and something the entire family can enjoy together!
See a video of the ribbon cutting below!
[gard]